About Us
At John Harris Dental we take pride in being a family friendly, high quality, affordable Dental Practice. Having dental care and a healthy mouth is an important factor in having a healthy life. We provide a full range of dental care to give you healthy teeth and gums and ensure you have a winning smile. Late night appointments are available on Wednesday.
Please call our friendly team for more information or to make an appointment.

Our Team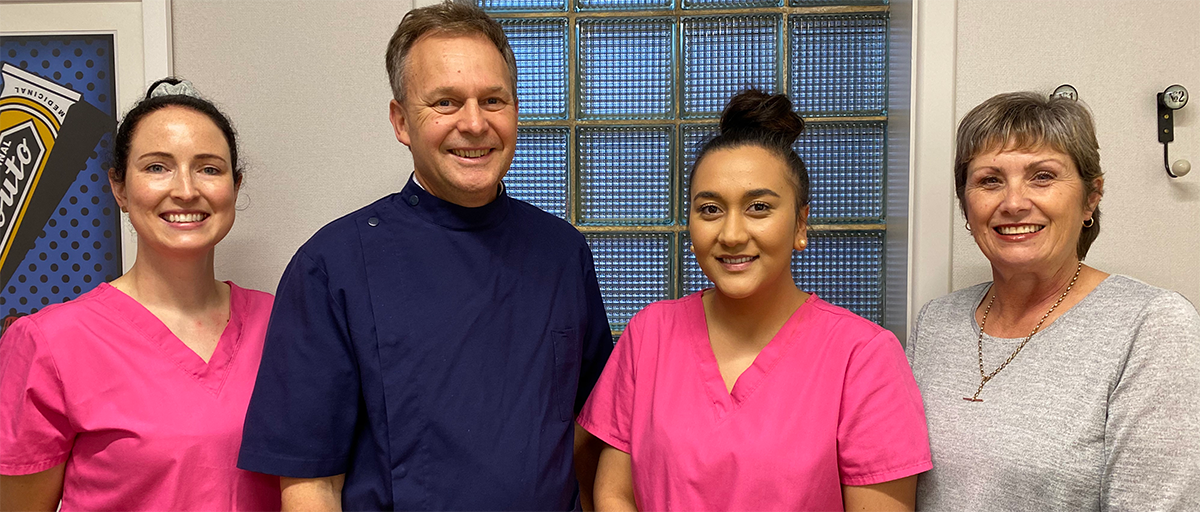 Dentist | John Harris
John graduated from Otago university with a BDS in 1981. He then moved to Invercargill and started work with Alastair Reekie. They worked as Reekie and Harris for 30 years until Alastair retired in 2014. John is an enthusiastic member of the New Zealand Dental Association and has held every elected position in the local branch.
John is married to Jan and they raised their three children in Invercargill. John brings experience and current concepts to the re-equipped and refurbished rooms at 79 Don street.
Amenities
More Than 30 Years Experience
Fully Equipped Modern Clinics
Late Nights
Payment Plans
Adolescent Dental Care Free
WINZ Quotes
ACC
TREATMENTS
Full Examination and Consultation
Dental Emergencies
Routine Fillings
Extractions
Root Canals
Hygiene Scale & Polish
ZOOM Whitening
Immediate Dentures
Implants
Treatments
Most regular patients see our dentists once a year. Finding problems when they are small and maintaining the health of your teeth and gums saves difficult, expensive treatment later.
Full Examination and Consultation
We try to keep appointments open so that you can be seen promptly and have those painful problems dealt with.
Dental Emergencies
We have used the composite (white) fillings ever since the technology become completely reliable. The old amalgam (Mercury) fillings have been going out of favour with the public for years.
Routine Fillings
An extraction is the last resort for a tooth that can't be saved and a predictable option for a painful tooth in an emergency.
Extractions
Inside a tooth is a fine space called the root canal. This contains nerves and blood vessels. If this tissue becomes diseased or dies, pain and infections will occur. Root canal treatment cares for these teeth.
Root Canals
Advice is given about home care and treatment of the gums to prevent the progress of periodontal disease. This is essential maintenance for the long life of your teeth and gums.
Hygiene Scale and Polish
Whiten teeth fast with the advanced zoom whitening system. Feel good and look great with a whiter smile.
Zoom Whitening
Tooth shaped caps which fit over your own teeth. Used to cosmetically improve and strengthen heavily filled and root filled teeth. Help you keep your own teeth.
Crown and Bridges
Loosing teeth is not something anyone wants to do. Immediate dentures are planned and constructed with the intention of placing them in your mouth immediately the teeth are removed. This deals with the embarrassing appearance problems loosing teeth causes.
Immediate Dentures
Am implant is like an artificial tooth root. A crown, bridge or denture can be attached to an implant. This is an excellent way of replacing teeth as other healthy teeth are not involved.
Implants
Opening hours
| | |
| --- | --- |
| Monday | 8:30 am – 5:00 pm |
| Tuesday | 8:30 am – 5:30 pm |
| Wednesday | 8:30 am – 9:00 pm |
| Thursday | 8:30 am – 5:00 pm |
| Friday | 8:30 am – 5:00 pm |
| Saturday | Closed |
| Sunday | Closed |
contact us
79 Don St, Invercargill, 9810